Biohazard Cleanup in San Antonio, TX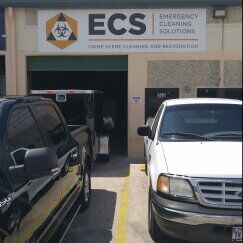 If you or someone you know is faced with a circumstance that requires Biohazard Cleanup in San Antonio and the surrounding area, you are already on the right path by seeking professional help. Biohazard cleanup is a service that needs to be handled by a professional biohazard cleanup company that specializes in the removal and decontamination of blood, body fluids, fecal matter and infectious disease. Emergency Cleaning Solutions has been performing biohazard cleanup services for over 10 years. We recognize how critically important it is to make sure no traces of contaminants are left behind that could present a health risk to families and businesses. That's why ECS technicians undergo annual training and use only the best disinfection tools and treatments. We are a family-owned business and want to give you the professional service we would expect if we faced with hiring a biohazard cleanup company.
What are some circumstances in which you may need Biohazard Cleanup Services?
Crime scene cleanup
Unattended Death
Industrial Accidents
Suicides
Severe Pet Damage
Hoarding or Gross Filth Properties
Rodent infestations (post-pest control measures)
Areas/surfaces exposed to infectious disease including COVID-19
What Does Our Biohazard Cleanup Service Include?
Biohazard Cleanup could involve one or more of the following services:
Removal of blood and body fluids
Removal and disposal of contaminated materials
Cleaning and disinfecting salvageable contaminated materials
EPA-registered Hospital-grade Disinfectant Treatment
HEPA-filtration vacuuming of rodent or animal droppings
Comprehensive Pet Damage Remediation
Removal and disposal of drug paraphernalia and needles
Biohazard Cleanup – Not a DIY Project
Biohazard Cleanup service was likely not on your radar for companies that you may need someday. Most families and businesses will likely go their whole lives without ever having to call a biohazard cleanup company. But the unexpected does and will happen. And when it does, you want a company that will put the safety of you and your family or staff first. When it comes to Biohazard Cleanup, cutting corners could put lives at risk. ECS technicians have been professionally trained and take every precaution to ensure you and your family can return to a safe environment and move forward with recovery.
The Emergency Cleaning Solutions Difference
Patience and Compassion – Many of the circumstances that require biohazard cleanup resulted from a traumatic event. We recognize that it's a difficult time and always perform our services discretely and with complete professionalism
Thoroughly Documented – ECS thoroughly documents our biohazard cleanup service with a list of all the services we performed at your home or business. This help put your family at ease knowing exactly what was done and also makes insurance claims simple.
Eliminating Risk – ECS technicians get ongoing biohazard cleanup training that includes annual OSHA-compliance training in bloodborne pathogens and respiratory protection
Local and Federal Laws Followed – Biohazard cleanup services involve the removal, transport and disposal of regulated waste. ECS is a licensed medical waste transporter and works with a licensed biohazard waste facility to ensure all contaminated materials are legally disposed of.
To find out more about our emergency cleaning services, please reach out to our offices at (210) 392-8891.
Get Your Free Estimate Today
Get Your Free On-Site Estimate Today
Fill Out The Form Below And We'll Be In Touch With You Shortly.
Reliable. Trustworthy. Proven.
24-Hour Service with Prompt Response Times
100% Compliance with laws & regulations
Privacy and Discretion for All Scenes
Direct Billing to Your Insurance
OSHA-Compliant Technicians
Family owned and operated