Last week I got a call to an Apartment in San Antonio that there was a suicide. I rushed over to the scene to see what needed to be done. I usually go to a scene to bid by myself. After I check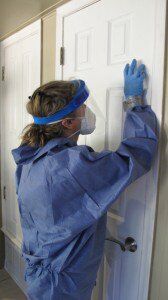 in with the apartment manager, they give you the key and then I am on my own. Every time is different but the feeling is always the same.
Home exercise training accessories yoga magic circle gym fitness hoop waist shoulder shape pilates bodybuilding magnum pharmaceuticals hotels near plaza del sol (guadalajara) from €24/night – search on kayak.
The adrenaline you feel as you walk or drive over is very intense. You never know what you are walking into and you are alone in an apartment that has just seen tragedy. There is a dark feeling especially after a suicide. As I entered the front door I was immediately confronted with a blood and tissue soaked couch. A single gunshot wound to the head is obvisous. The TV is still on and a fan blowing. As I continue in the room I observe lots of things. An overwhelming feeling of grief for this person comes over me. I see a picture of the deceased and their loved ones. I see lots of movies and things that I love too. This person had so many of my same interests. I see open on the floor a calendar saying starting medical school. As I move forward through the apartment I see a lot of medical equipment that the EMT's tried very hard to save their life and were not successful. And for a split second I say to myself, "why"? I know this was a very young person just by the surroundings and it just bothers me. I say a little prayer for the deceased and for their loved ones. Then I begin the process of cleaning up. I am there so that the family or no one else will have to see this sadness. It is gruesome, so I better get started!